Tiger Safaris India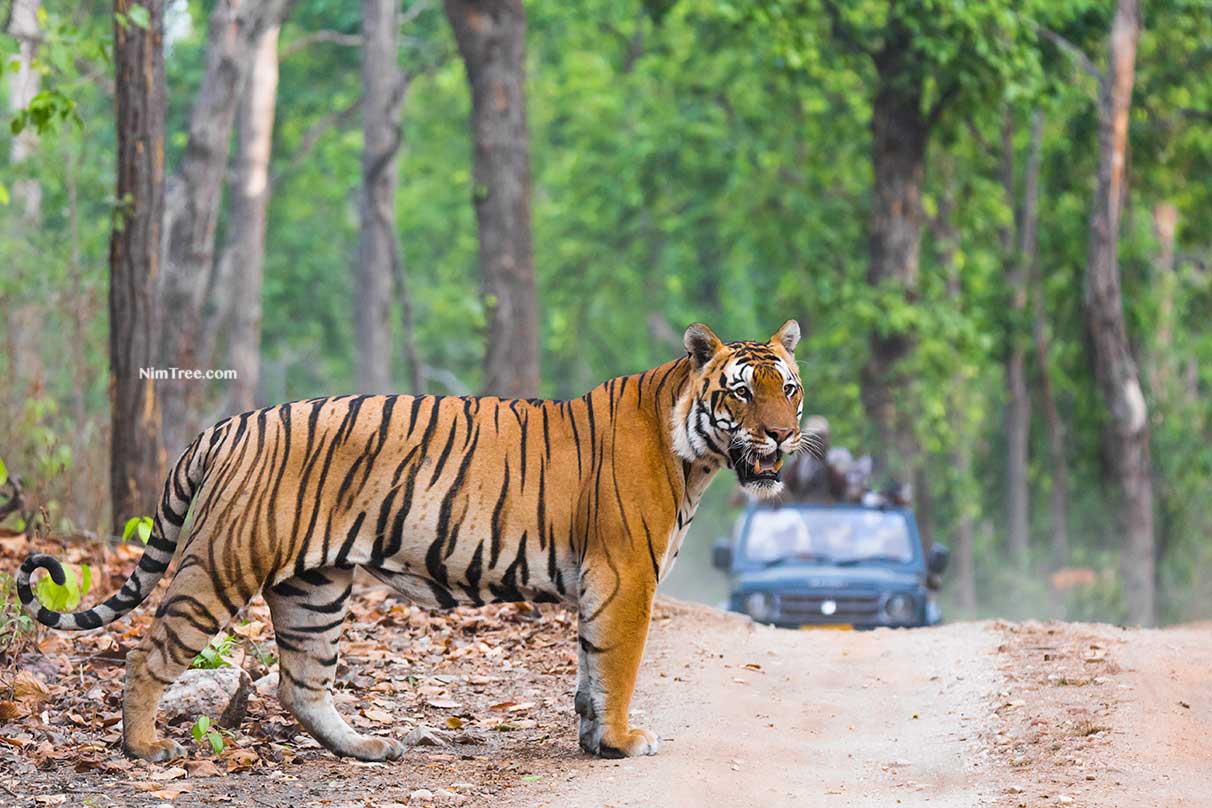 India is the best place to see wild tiger in their natural habitat. Not only tigers, you would also get to see Leopards, Bisons, Wild Dogs, Jackals, Sloth Bears, Black Panthers, Langoors, Crocodiles, Sambar deer, Spotted Deers, Rhesus Macaque, Blue Bulls and lot of other wildlife including birds and reptiles.
It is a thrilling experience to search for the big cats in the Indian jungle with your family / friends and witness them in their natural habitat.
Unlike our other photography safaris, this safari is specifically designed for nature lover and non-photographers. The only difference between this tiger safari and our photographic safaris is the photography tuition. All other aspects of the tiger tour to india remains the same.
Since there is no photography tuition involved, you benefit from the great level of service and superb accommodation as our photographic safaris at a lesser cost.
We have English speaking nature guide and no more than 3 guests on a 4×4 safari vehicle. This ensure you have a comfortable and spacious experience on your safari.
The Tiger safaris are specifically designed for families with children, couples , honeymooners and anyone who has interest in nature and wildlife. We can also cater for group of senior citizens and school groups.
The Indian tiger Safaris are fully planned from our London office and the itinerary can be fully custom built with your choice of resorts / jungle lodges and national parks in India.
We have a collection of handpicked 5 star jungle lodges in each national park where guests numbers are very limited. Fewer guests means more focus on you.
All our lodges are rated 5 star by western travelers on TripAdvisor.
Our jungle lodges have swimming pools, reading rooms with vast collection of book and magazines, cinema rooms to watch wildlife documentaries ,
Private chefs who are happy to share their secrets of Indian flavours.
Even though you would be in the middle of central Indian forest, we make sure you have finest Indian and European meals and beverages to you. Since our tiger safari tours are all inclusive, you don't have to worry about any bills or extra charges at all.
We provide Indian wildlife Safaris in the following National Parks
Bandhavgarh National Park
Ranthambore National Park
Kanha National Park
Tadoba National Park
Pench National Park
Kabini – Nagarhole National Park
Gir National Park
Tiger Watching Safaris India
There are plenty of activities to do after your safaris. We provide free bicycle and binoculars and an English speaking guide with whom you can go and explore the surrounding area of natural interest. village and make new friends with the welcoming villagers.
This tour also takes you to visit the tribal who have been living in the national parks for hundreds of years and have their unique culture and way of living. In the evening , you will have chance to enjoy traditional tribal dance and to taste local delicacies cooked in earthen pot on open fire.
If you enjoy fishing, we can arrange a fishing trip at the nearby river and lakes with our guide.
Those who enjoy Yoga, lessons are available free of cost. Want to enjoy pottery lessons? We got you covered. Out local craftsmen and women would love to teach you how to make earthen pots which makes delicious food and keeps water cold in 45c heat.
We support local school and self help groups located near the national parks. If you wish to bring items for the purpose of donation to the school, please feel free to do so.
Although this is a Tiger and wildlife safari trip, we would ensure everyone has interesting things to do which would let them see things differently.
By booking your Tiger and wildlife safaris with us, you get full ATOL protection.