Black Panthers & Big Cats of Nagarhole National Park, India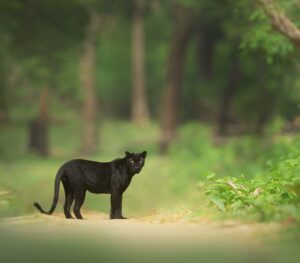 Where can you find Black panther, Leopards, Tigers , Indian Wild Dogs, Sloth Bears and Elephants – all of them in ONE national park?
Nagarhole National park (also known as Rajiv Gandhi national park) is famous of its pristine jungle and big cats, especially the melanistic leopard, commonly known as black panthers. The park is situated in the southern state of Karnataka,approx 4 hours drive away from the hustle and bustle of Bengaluru city. Nagarhole national park is a very beautiful place to photograph Asiatic leopards and elephants.
There are Tigers as well as other native wildlife too. The star attraction of Nagarhole national park is melanistic leopard, also called as black Panther because of its completely black skin colour. It is NOT a different species but the native leopard with melamine issue. If you look closely, you can see the spots on the leopard's skin like which are covered by the black colour.
Accommodation options at Nagarhole National park are limited but adequate. There are luxury lodges run by the government as well as by private companies.
We organise wildlife and nature photography tours to the Nagarhole National park, where you can come across Black panther, Tigers, Asiatic Elephants, Leopards, Bison, various species of deers and plenty of birdlife.
Please check out our next tours here.